Year 6
Welcome Year 6 Home Learning
'Sing Up' at Home!
Music and singing are incredibly powerful and can help support us in so many ways – emotionally, physically and intellectually. The benefits are endless, and supporting singing is central to the philosophy at Sing Up.
Click here for access to Sing Up at Home!
Message from your Teachers - Week Commencing 18th May
Hello Year 6!
We have loved seeing everything that you have been up to! Thank you to all of you who have put a smile on our faces by sharing your pictures and videos with us on ClassDojo. We are impressed with all your talents and skills, from baking to writing! It is great to see you participating in a variety of activities alongside your home learning.
We hope you are all well and still smiling :)
Take care,
Miss Howes and Miss Little
Message from your Teachers - Week Commencing 1st May
Hello Year 6!
We hope that this message finds you well and ready for another set of home-learning tasks. We have thought carefully about what to set you and hope you enjoy the various tasks that we have put together. Don't forget to share your work with us on Class Dojo; the pictures and videos that we have seen so far have been amazing! We are missing you lots and hope that you are enjoying your time at home, whether that be completing home learning tasks, learning a new dance routine, exploring outside or relaxing with a good book. We can't wait to share all that we have been up to with you as well as hearing your stories.
Take care and stay safe,
Miss Howes and Miss Little
Messages from your teachers- Week Commencing 20th April
20th April 2020
To our amazing Year 6s,
As you may be aware, our school is going to be closed for a little bit longer. We have worked together to create some home learning tasks for you to complete. We want to thank you for taking this new way of learning with positivity and enthusiasm – it is very admirable. We cannot begin to tell you how much we are missing you all however, you being at home and safe is the most important thing right now.
From Miss Howes and Miss Little
Celebration of Year 6's Home Learning
Teacher Appreciation Day
Thank you for all of your kind and thoughtful messages Year 6 - you certainly know how to make us smile! You play the biggest part in making teaching fantastic, so here is an even bigger thank you from us too :)
Reading Quest!
Christian has undertaken a quest to find a Shakespeare play that does not include love or murder. Following an extensive search, he concluded that all of Shakespeare's plays include either love or murder and sometimes both! A fab piece of research to complete Christian - well done!
The Arrival at Home!
Charlie has gone above and beyond with his home learning; he regularly uploads a variety of completed work and should be proud of his efforts. Here is an example of Charlie's playscript supported with shadow puppets that link to our Science topic! Well done, Charlie!
Ruby has been busy writing a letter in role as part of our class book, The Arrival. The content she has included is fantastic! Keep up the great work, Ruby!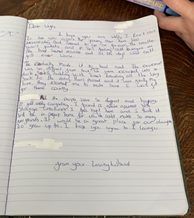 Alex has been busy making shadow puppets of the characters from 'The Arrival'.
Migration Projects
Martha has worked incredibly hard on her leaflet about migration. She has researched the topic thoroughly alongside developing her existing ICT skills to create this professional-looking leaflet; well done Martha!
Olivia has conducted thorough research on animal migration linked to our 'Arrival' topic. She has included excellent points and presented her work in a clear and easy to read format. Well done, Olivia!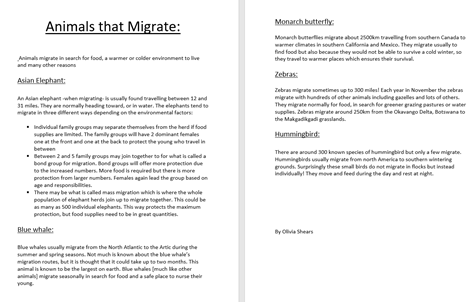 Artists at Heart
Mrs Wild set the Year 6 children a zentangle challenge which they have been responding to. The artwork produced has been fantastic - well don everyone!
Jack: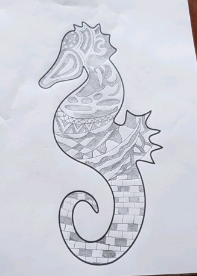 Sophie:
Charlie:
Anna: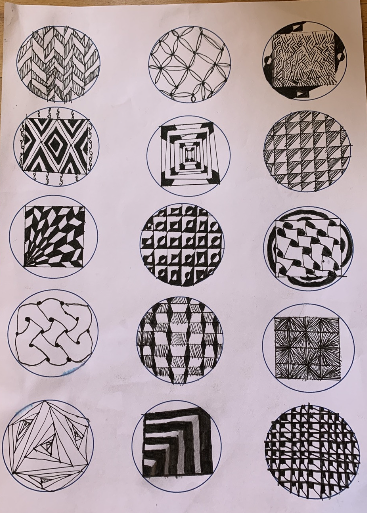 Esme: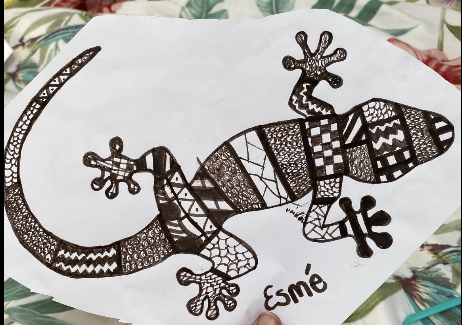 Extra Projects!
Dom has been using this time during the glorious weather to develop his gardening skills. Here are some beautiful irises that he grew from bulbs:
Elsie has been perfecting her baking skills and made this delicious-looking marble cake! Great British Bake Off here you come!